So, I mentioned it. I'm SOOOORRRRY!
For all those who are working so hard to be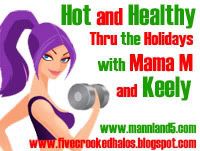 I assure you, this will not help. I'll throw out the "lower fat" tips for this where I can, but dude. This is for real a rich, creamy, chocolaty giant bowl of bliss. And I mean big. I make this stuff to serve me. Or, the 17+ of us that get together for the holidays. It's a fight. And there are NEVER leftovers.

I have a cake stand that flips over and makes punch bowl, like this:

(Ok, this isn't the flipped over part. But follow me for a second. If you flip over both pieces here individually, the cake tray part becomes a nice wide base, and that knob from the cover? It fits right down into what is the bottom in this picture. Eh, hang on.)

There. Now hopefully that helps.

That being said, you just need a dish. Shoot, I made this once in one of those Ice Cream Party Pails so I could throw a lid on it and take it with me to a tailgate! But, the cake stand/punch bowl thing is pretty. (Until 4 teenaged boys descend, but there's nothing that can save you from that.)

Now, for how to do this. Are you familiar with Sandra Lee? You know, Semi-Homemade? WINNER! You need to bake some brownies. I prefer to almost bake them. You know, leave them a little soft and gooey? But that's a personal preference. If you are the chewy edge girl, that's good stuff too! (Reduced fat tip #1- replace half of the oil in the brownies with applesauce.)

Next, you need to make chocolate pudding. I usually make 2 or 3 large boxes of pudding (remember, I have 3 kids. It's not like the leftovers don't get eaten, but I love to layer it on pretty thick in the dish, too!) I totally do instant pudding, and for me, I replace 1 cup of milk in each box with 8oz of sour cream. It adds a richness to the pudding that's incredible. (Reduced fat tip #2- um, don't use sour cream? Or, use a low fat sour cream. Or, use skim milk and no sour cream. You get the idea.)

Ok, assembly!

Layer the following into your trifle dish: Brownie, pudding, whipped topping. Brownie, pudding, whipped topping. Sprinkle the top with toffee bits. I've also topped with cocoa powder, mini chocolate chips, chocolate shavings, whatever.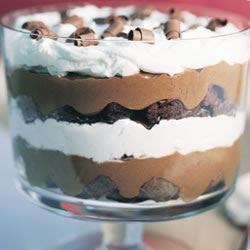 Seriously. That's it. But if you take your time with your layers, it looks like you slaved over it for hours and it tastes amazing. This is NOT a picture of one I made, I totally stole this from
AllRecipes.com
, but this is it (the link will take you to their version of the recipe!) I've also done this smaller scale in glasses for a dinner party. I used some brandy snifters, but a wine glass or about any other stemware would look lovely!
To give you some reference, I usually bake 2 boxes of brownies (I use that gooey middle part for the Death By Chocolate and snack on the chewy edges as I go along!) I already mentioned 2-3 boxes of pudding mix, which means about 24 ounces of sour cream, and I end up using around 24 ounces of whipped topping. In the baking aisle at the grocery store you can buy Heath Brickle, which is my favorite topping.

Now, I can't begin to give you the calorie count, fats, sugars, etc. I can tell you that this, this is very, very good. And if I am going to die, a Death By Chocolate induced sugar coma is an ok way to go!