Last week I was lazy, so I made one post out of my two Friday Hops. This week, I'm gonna make you want to come back for more! HA! So, it'll be two. First up, Fill In the Blank Friday! brought to you by
The (Un)Experienced Mom!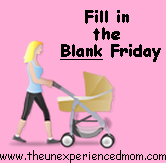 Today's Fill In the Blank question is:
I blog because _____________.
And honestly, I'm not sure I have an answer. Each day, my reason to write is a little different. I started because I wanted to journal, I wanted to document the little things in our lives that end up meaning so much but tend to get lost. And I was reading other blogs, and had a "duh!" moment! Because I am on a computer or have immediate access to one about 90% of the time, journaling ONLINE made sense!
Now I blog because I'm enjoying it. It's therapeutic. As I vent frustrations in words, on the screen, sometimes I realize how silly I've been. As I share little moments, I make note of details that are so important to the story, but I might have not recorded if I were only doing it for me. And by trying to write at least once a day, I'm carving out my own little personal time, which sometimes, as a mom, is hard to find!
Finally, I blog because I'm developing new relationships with women all over the place, and we're friends. And we share things with our friends. I value the input of others, there are so many times when someone who is outside of a situation can see it far more clearly than those in the midst of it. The feedback, comfort, support and cheers of these people, most of whom I'll never see face to face, makes it all worth it. You guys give great advice, and I respect your opinions! So, thanks!
Now, hustle on over to The(Un)Experienced Mom and see what other's have had to say on the matter!