Today,
Shell from Things I Can't Say
is hosting "Pour Your Heart Out Wednesday", and I got some stuff to say.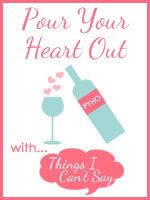 And I'm gonna dump it on y'all.
Which kind of makes me feel bad, 'cause I like things here to be fun, but the reality is, I'm not feeling very fun.
And I haven't for a couple weeks.
I have a bad attitude. I have approached everything in a totally negative way, with only a few exceptions. Life has been a chore rather than a blessing. I don't look forward to going home, because the house is a disaster and just represents how much more work I have to get done. I don't look forward to going to work because, well, it's work. And I'm tired.
I'm picking fights with people I love, just because I have a bad attitude. I'm growling at my kids, just because I have a bad attitude. I am snarky and sarcastic at times where I should be supportive, caring, helpful. Yep, just because I have a bad attitude.
I have a great job, where I get to work with amazing people and do something I love.
I am supported in that endeavor by a husband who wants me to succeed, and is willing to take on the role of single dad for months on end while I work ridiculous hours.
I am surrounded by 3 kids who love me, and understand that this time of year is going to be tough, and mommy time is going to be limited, but that it means that we have lots of opportunities for fun stuff in the summer.
So what the heck is my problem!?
"Attitude:manner, disposition, feeling, position, etc., with regard to a person or thing; tendency or orientation, esp. of the mind"
(definition as found here)
And I'm ready to chuck mine in the round file.