I did it.
No laughing.
Or at least not more than me!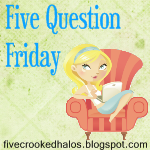 Please click the button to visit lots of other Five Question Friday posts, including a couple other (at least!) VLOG versions.
It's Kate's fault.
Just sayin.
Without Further Ado: AllABunchOfMomsense.com presents:
5QF, The Vlog Edition.
Ok, there it is. No makeup, greasy head, but done.
Yeesh.