I'm going to combine these two blog hops, I think, in consideration of space & time (or the time-space continuum, or something!) Plus, they are similar, and both really awesome, and I want you guys to hop through BOTH of them! HA!
So, welcome to
Mama M's Five Question Friday
/
The (Un)Experienced Mom's Fill In The Blank Friday
Super Hop! Check out both McLinky's below to find out what everyone else's answers are!
Mama M's Five Question Friday: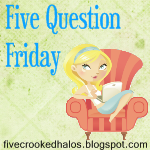 1. What is your dream job?
I'd love to be on the radio! I think it'd be fun to talk to people about stuff. Maybe even a play on my real job - I could to a radio tax show.
2. What song could you play over and over?
Just one SONG!? Wow. I could probably listen to the Goo Goo Dolls "Iris" over and over again, or Chris Tomlin's "Made to Worship" or "How Can I Keep From Singing" Can't pick just one. Sorry!
3. Do you prefer to talk on the phone or text (or email)?
Yes! I am a glutton of all communication. I email a LOT, though, because my schedule pulls me all over the place, and I can revisit an email to make sure I'm answering the questions I need to. I'm also a big fan of the IM.
4. What is your must have beauty product?
My Bare Minerals foundation. I have less than fantastic skin, and I can wear no other makeup and feel totally pulled together. Since I'm not a big makeup person, I love that it's easy to throw on and doesn't feel foul!
5. What is your favorite Michael Jackson song?
That's another tough one. I grew up in the Michael Jackson era. I love his ones with social meaning. "Black or White" comes to mind, for example. But who doesn't love "Beat It" or "Billie Jean"!?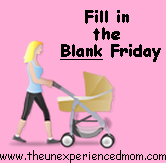 Now to Fill in the Blank!
If there was a movie made about you and your life, the actor/actress you would pick to play the role of you would be: _______________
Yikes, really!? I dunno, Meg Ryan is pretty spunky, and might be able to pull of a level of nuttiness like my own! Ha! Plus, what a cutie! She could make me look darn good!
Now it's YOUR turn! You can post your answers in the comments, or on your own blog! Be sure to add your link to the McLinkys, and don't forget to visit Mama M and The (Un)Experienced Mom to check out their answers!