You remember last week, during
5QF
, when I said I didn't have my own day of the week great idea thing going yet?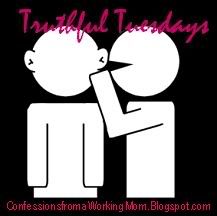 Still don't. But, that's cool, because I have found some fantastic bloggers who do have those brilliant ideas! So, today, I'm jumping on board with
Elizabeth's
Truthful Tuesdays! Without further ado:
Question: When was the last time you did something just for you?

This one is not as difficult for me as it is for newer moms. I have older children, who are not quite as dependent on me to accomplish things for them. I frequently sneak off to my big, wonderful garden tub and pop the cork on a bottle of wine. Although, that's frequently as much for everyone else as it is me. (I'm far less likely to kill someone that way!)

A few weeks ago, my friend E & I went to Indianapolis for a concert. (Which reminds me, I still owe her for my ticket! Totally forgot!) We went to go see a band we used to see EVERY TIME they came to town. They did a fabulous reunion show and I learned I was old. (It was 3am before I made it back into my own driveway. I'm WAY to old for 3am!)

That's the stuff that immediately came to mind for me. What are you doing just for you these days? Why?
Fill us in, either by sharing a comment, or participating in today's blog hop!