Oh, she's good. She's really, really good.
'Cause that Elizabeth over at Confessions From a Working Mom, she can make you cry.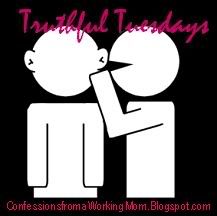 This week's Truthful Tuesdays question is:
What do you
really want for Christmas
that money can't buy?
Today has not been my best day. Maybe this week is destined to not be my best week. Between yesterday's bus stop nonsense, and then this morning....

Oh, this morning. See, I have this 8 year old who's pretty sure he's 16, and that the world is supposed to revolve around him. I'm supposed to do everything for him, and he's allowed to speak to me however he chooses. And not just me. He talks to everyone like that.

I'm seriously, honest to God, considering military school.

This morning has left me in tears. I'm on the verge of a breakdown with this child. The defiance, the lip, the attitude. I'm not sure I'll survive. Or that if I do, he will.

So for me, this year, what I want, is peace in my household. Whatever it is that drives my son to push and push and push, I want THAT to just back off. I want to have a good, solid relationship with my child, one built on trust and respect.

Dear Santa,

Can you please slip that under my tree?