I'm linking up today with Pour Your Heart Out Wednesday with Shell!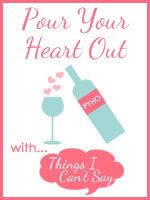 Over the last few days, a woman who I consider a dear, dear friend has been re-living what she dealt with 5 years ago this week.
She was fighting to save her daughter.
Before she was three, Colette had been diagnosed with Stage 4 Neuroblastoma, an aggressive cancer of the nervous system. Her May, 2005 diagnosis led to surgery, months of chemotherapy, and finally, in that first week of December, a stem-cell transplant.
My heart broke for a family, terrified, facing unknown battles. For a little girl, only a few months younger than my own E, who would spend Christmas in a hospital, isolated, while her family prayed the stem cells would graft in, and her body would begin to heal.
As I read over the CaringBridge posts from 5 years ago, I remember sitting in tears at my computer. I remember praying as hard as I had ever prayed for God to heal that little girl.
Blood transfusions. Feeding tubes. Central lines. Stem cell transplants. Chemotherapy. Radiation. Surgeries. All at a hospital 5 hours from home.
She was three. years. old.
For Christmas, they put a sparkly pink tinsel tree in her room. Many of us sent gifts. We left notes of support and prayer on her page.
We loved her.
And we still get to.
This is Colette in October. Notice her hearing aids. The substantial loss in hearing she has is a direct result of the chemotherapy. That's because pediatric cancer research is sorely underfunded, and often, adult treatments are used to fight childhood cancers.
They aren't sure if Colette will ever have children, the impact on her reproductive system is unclear at this stage. The risk of secondary cancers for her is high as a function of the treatments she received to fight the neuroblastoma.
Here's the part where I pour out my heart.
I have three healthy kids. I'm so incredibly blessed, even when they are driving me crazy. There are days when I forget that.  When I yell at them, not because they're being ridiculous, but because I don't have the patience for the silliness at that moment. When I'm frustrated that they aren't trying hard enough on a homework assignment, and I lose track of the fact that they are healthy enough to go to school every day.
I lose sight of how lucky I am.
And then, I feel that much worse when I'm short with them. When I'm impatient. When I'm harsh.
We spend so much time and energy focusing on outward appearances, we lose sight of what we have right here in front of us. We become so overwhelmed by work, chores around the house, social engagements, volunteer work, even things like blogs, we miss the miracles that happen every day.
Or maybe that's just me.
And that? That's the part that scares me the most. The part where you go "Am I the only one? Are there other mom's who feel that way too? Or is it really JUST me?"
And then you get into a spiral of feeling like a mom-failure.
As I re-read Tammy's thoughts, fears, prayers from those terrifying days five years ago, I am reminded of just how lucky I am. And how much I need to remember that.